Spring Tryouts for 2020-2021 School Year
Tryout Day 1 – Wednesday, December 9th from 7-9 pm
Tryout Day 2 – January TBD
Tryout Information Video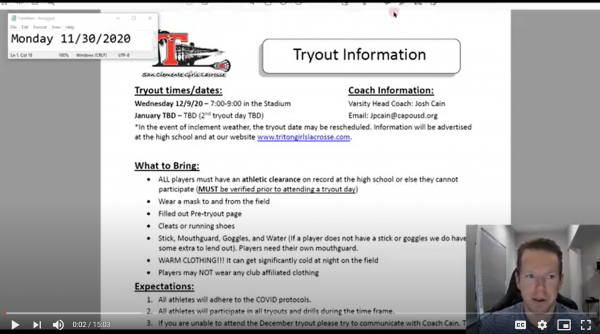 – https://drive.google.com/file/d/1IPUuvIIPxY7_EpCQ_5jOYygzabLLPvcg/view?usp=sharing
(Please watch as Coach Cain goes through all the tryout information)
We would like for all players to attend both tryout dates. However, we do understand that there are some conflicts and some players cannot attend this Wednesday's tryout or due to an increase in COVID cases in our area, may not feel comfortable coming out to the December tryout. We just ask for you to communicate with us ahead of time.
We plan to offer positions on the team after the 1st tryout date and then fill in the rest of the team after the 2nd tryout date in January (TBD). Players that attend the tryout on December 9th will get an email stating…
They made one of the teams, or

They need to attend the January tryout for further evaluation.
The email will be sent out no later than Friday, December 11th. Players that make the team will need to email back and accept their position on the team by Monday, December 14th.
Youth Clinics for 2020-2021 School Year
For all athletes in grades 1st-8th grade for the coming school year. When COVID restrictions allow for safe clinics, we plan to offer free clinics for all ability levels (brand new to experienced lacrosse players). If you are interested in receiving updated information via email when we will be offering clinics, please register below.
2017 & 2018 LEAGUE CHAMPS
Congratulations on another league championship!